Shipping Sidekick Now Offering Freight, Large Item and LTL Shipping Rate Comparison
Shipping Sidekick Now Offering Freight, Large Item and LTL Shipping Rate Comparison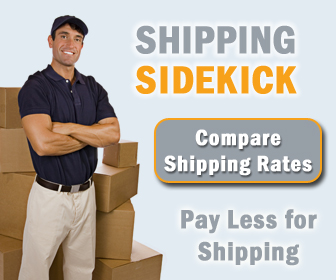 Aberdeen, SD – July 9, 2009 - Shipping Sidekick (www.ShippingSidekick.com), the web's leading shipping rate comparison website, announced today that it is now offering freight, large item and LTL (Less Than Truckload freight) shipping rate comparison, in addition to ground, express and overnight small package shipping. Those looking to ship freight or large items can get the rates of up to a dozen freight shippers in seconds. Freight shipments can also be booked and paid for instantly online. No more calling around or waiting days to get freight shipping rates. Best of all, Shipping Sidekick is free to use.
Please visit www.ShippingSidekick.com the next time you are shipping anything from an overnight envelope to a large freight shipment. We get you the best shipping rates fast.
About Shipping Sidekick
Launched in 2006 by web tools pioneer, Webplus, Inc, Shipping Sidekick (www.ShippingSidekick.com) is your headquarters for everything shipping. Users simply enter their package information and Shipping Sidekick shows the shipping rates and estimated delivery times of all major US shippers side-by-side. Shipping Sidekick saves you money by showing you the best shipping price for your package. Comparing shipping prices used to mean going to each shipper website and entering the package data over and over. This can now be done all in one place in less than 30 seconds. Shipping Sidekick also offers multi-carrier package tracking based on the same principle so you can find out if your packages were delivered quickly, easily and all in one place even if they were sent via different shippers. Shipping Sidekick provides numerous other resources for shipping including insurance, moving, freight, shipping supplies and much more in addition to instant discount shipping to almost any country on earth. Best of all, Shipping Sidekick is completely free to use.
Contact:
Jacob Lakhany
605.229.0307
jacobl@shippingsidekick.com
Welcome to Shipping Sidekick!
Save up to 60% on shipping almost anything to almost anywhere!