Ship Packages Online with Shipping Sidekick's Discount Shipping Console and Get a Free Shipping Scale
Aberdeen, SD March 28, 2007 (PRNewswire)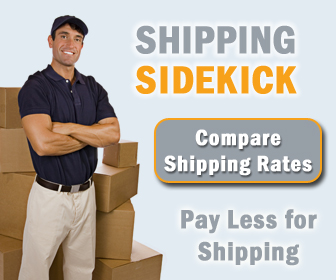 Shipping Sidekick (www.ShippingSidekick.com), the web's leading website compare shipping rates, announced today that its is now offering a free shipping scale (after rebate) to those shipping through it's discount shipping console. These highly accurate digital shipping scales feature a 35-150 lb. capacity and a lifetime warranty and are perfect for eBay sellers, small businesses and home-based businesses.
Shipping Sidekick means big savings for small shippers. Shipping Sidekick allows you to compare the shipping rates and transit times of all four shipping companies side-by-side allowing you to choose the very best rate. Through the discount shipping console, shippers can print shipping labels and request package pickup in seconds while enjoying shipping discounts of up to 70% using the same great shipping services they've come to trust. Shipping Sidekick also provides multi-shipper package tracking showing up-to-the minute information on the whereabouts of your package direct from the shippers as well as numerous other shipping and moving resources.
"We are excited to be able to provide these scales to our users to make the process of shipping packages through Shipping Sidekick even easier," said Jacob Lakhany, CEO, Webplus, Inc. "Our service is a bit difficult to utilize without a good shipping scale so we came up with the rebate offer as a way to get a shipping scale into the hands of all of our users. We are confident that shippers will save time and money by shipping with us."
Please visit www.ShippingSidekick.com or contact sales@shippingsidekick.com to get your free shipping scale or for more information about Shipping Sidekick.
About Webplus, Inc.
Established in 1994, Webplus, Inc. is a leading provider of web based business solutions. Webplus, Inc. develops, markets, and supports the talentsoft line of development tools, middleware, and ecommerce solutions. Webplus's flagship products include Webplus, a robust web application server and development language, Webplus Shop, an ecommerce solution for small businesses, and Shipping Sidekick, a shipping rate and transit time comparison software. Millions of copies of Webplus's software have been distributed to over 100 countries via online and traditional channels. Webplus's mission is to deliver affordable, simple, robust, and localized software solutions for Small-to-Medium-sized Enterprises (SME) through partnering with local solution providers and value-added resellers around the world.
Contact Information:
Brian Kriech, COO
(605) 229-0307
Welcome to Shipping Sidekick!
Save up to 60% on shipping almost anything to almost anywhere!