Shipping Sidekick Celebrates 1 Year Online as the Leading Free Site to Compare Shipping Rates on Ground and Overnight Delivery
Aberdeen, SD (PR.com) August 31, 2007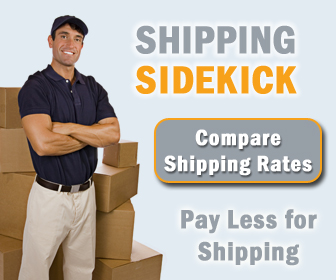 Shipping Sidekick (www.shippingsidekick.com), the web's leading shipping rate comparison website, announced today that it has been online for 1 full year today. Shipping Sidekick was launched on August 31, 2006 and has compared shipping rates for thousands.
Shipping Sidekick shows the shipping rates and estimated delivery times of DHL, FedEx, UPS, and the US Post Office side-by-side. Shipping Sidekick is completely free to use and saves you money by showing you the best shipping price for your package. Comparing shipping prices used to mean going to each shipper website and entering the package data over and over. With Shipping Sidekick, this can be done all in one place in less than 30 seconds providing ground, priority and overnight shipping rate quotes side-by-side. Domestic and international shipping quotes are available with no obligation to use any particular service.
"The entire Shipping Sidekick team is very proud today, our 1 year milestone," said Jacob Lakhany, Business Development Manager, Webplus, Inc. "We've come a long way in the past year. Shipping Sidekick has improved in function and went from being a pay site to become completely free to use. The recent addition of international shipping quotes opened up Shipping Sidekick to a whole new audience. We will continue to develop and add function to Shipping Sidekick to make it even more useful to our users in the future."
"I'd like to thank our users for their support over the past year," added Zeb Stahl, Head of Customer Service. "We have a very loyal user base which is the reason we are able to offer Shipping Sidekick free of charge. They are truly the ones to thank for our year of success. I have had the pleasure of hearing personally from some of the eBay sellers and small businesses, among others, who use Shipping Sidekick on a daily basis. I thank all of our users for their support and want them to know that we will continue to listen to their needs and wants in regards to shipping."
To compare shipping rates, please see www.shippingsidekick.com or email sales@shippingsidekick.com for more information about the Shipping Sidekick.
About Webplus, Inc.
Established in 1994, Webplus, Inc. is a leading provider of small business solutions. Webplus, Inc. develops, markets, and supports the talentsoft line of development tools, middleware, and ecommerce solutions. Webplus's flagship products include Webplus, a robust web application server and development language, Webplus Shop, an ecommerce solution for small businesses, and Shipping Sidekick, a shipping rate and transit time comparison software. Millions of copies of Webplus's software have been distributed to over 100 countries via online and traditional channels. Webplus's mission is to deliver affordable, simple, robust, and localized software solutions for Small-to-Medium-sized Enterprises (SME) through partnering with local solution providers and value-added resellers around the world.
Contact Information:
Jacob Lakhany, Business Development Manager
(605) 229-0307 extension 1128
Welcome to Shipping Sidekick!
Save up to 60% on shipping almost anything to almost anywhere!