Shipping Sidekick v2.0 Released Featuring Free Shipping Rate Comparison
Aberdeen, SD - May 11, 2007 (pr.com)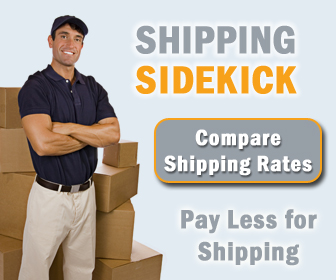 Webplus, Inc., a leading provider of small business solutions, announced today the release of Shipping Sidekick v2.0 (www.shippingsidekick.com). Shipping Sidekick v2.0 features free side-by-side comparison of USPS and DHL shipping rates and transit times as well as those of FedEx and UPS for paid users. Shipping Sidekick v2.0 also features improved navigation as well as numerous other improvements.
Shipping Sidekick saves eBay sellers, small businesses or anyone shipping packages time and money! When sending a package, users simply enter the destination and package information to quickly and easily retrieve the published shipping rate and delivery time of each shipping company allowing the user to choose the shipper with the best price for the delivery time needed. Published rates from UPS, FedEx, USPS, and DHL are provided on one screen, side-by-side. Each delivery company's ground, rush or priority, and overnight shipping rates are included. Savings of $3-$5 per package are common and a free shipping scale is offered with select memberships.
"We are very excited to roll out our new free version of Shipping Sidekick," said Jacob Lakhany, Business Development Manager, Webplus, Inc. "Competition is fierce between the shipping companies which is a good thing for shippers. Often the shipping company which has the lowest delivery price on a certain package is not the lowest on another. Rates change often and vary greatly between shippers so it really does pay to compare. It takes just seconds to compare rates on Shipping Sidekick which will result in savings on every package sent. No login or signup is required for the free version so we hope everyone will visit Shipping Sidekick before shipping their next package to get the best delivery price possible."
Please contact sales@shippingsidekick.com for more information about Shipping Sidekick or visit www.shippingsidekick.com.
About Webplus, Inc.
Established in 1994, Webplus, Inc. is a leading provider of small business solutions. Webplus, Inc. develops, markets, and supports the talentsoft line of development tools, middleware, and ecommerce solutions. Webplus's flagship products include Web+, a robust Web application server and development language, Web+Shop, an ecommerce solution for small businesses, and Shipping Sidekick, a shipping rate and transit time comparison software. Millions of copies of Webplus's software have been distributed to over 100 countries via online and traditional channels. Webplus's mission is to deliver affordable, simple, robust, and localized software solutions for Small-to-Medium-sized Enterprises (SME) through partnering with local solution providers and value-added resellers around the world.
Contact Information:
Jacob Lakhany, Business Development Manager
(605) 229-0307 extension 1128
Welcome to Shipping Sidekick!
Save up to 60% on shipping almost anything to almost anywhere!